Schlegel und Partner continues to take responsibility for its carbon footprint
19/10/2023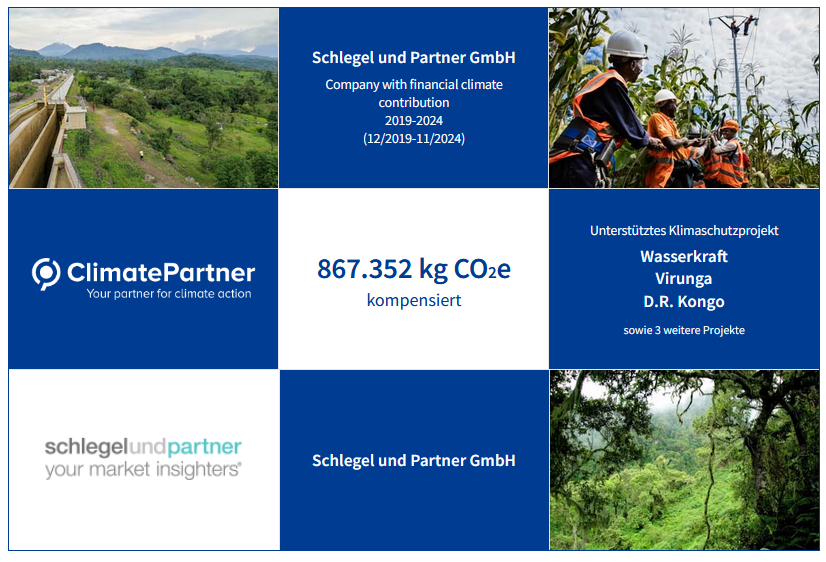 Together with ClimatePartner, we stand for transparency of our carbon footprint, development of strategies and measures to avoid and reduce emissions, and the financing of certified climate projects.
"Since 2018, Schlegel und Partner has regularly updated its carbon footprint to provide an overview of the success of our reduction measures. By implementing our measures, we were able to reduce our carbon emissions (scope 1, 2, 3) by 42% between 2018 and 2022 – from 227 tons CO2 in 2018 to 131 tons CO2 in 2022" so Dr. Thorsten Böhn, Partner at Schlegel und Partner.Wherever possible, we seek to avoid and reduce these emissions, for example by investing in energy-efficient retrofits, replacing conventional light bulbs by LEDs, installing a charging station for electric vehicles, a 'cold-water handwashing'-policy and office heating and cooling guidelines. We are additionally funding a VCS (Verified Carbon Standard) climate project near Africa's oldest national park, Virunga National Park in D.R. Congo, in an amount equal to our unabated emissions. This hydropower project increases the share of green energy in the power grid and contributes to improving the energy self-sufficiency of D.R. Congo. Electrification of areas where there was previously no electricity creates local jobs and greater security. The project also helps to conserve the unique biodiversity and landscape of Virunga National Park by reducing dependence on the park's resources, such as charcoal and firewood. You can find out more about the project we are supporting at
https://fpm.climatepartner.com/tracking/13733-1911-1001/de
By using the "Financial Climate Contribution" label, we enable our customers and business partners to track this funding and learn more about the climate project we are supporting. In this way, we are happy to provide the greatest possible transparency about our climate action measures.

Are you interested in further information?
Please do not hesitate to contact us: Dr. Thorsten Böhn
Phone number +49 6201 9915 79,
Thorsten.Boehn@SchlegelundPartner.de © Schlegel und Partner 2023